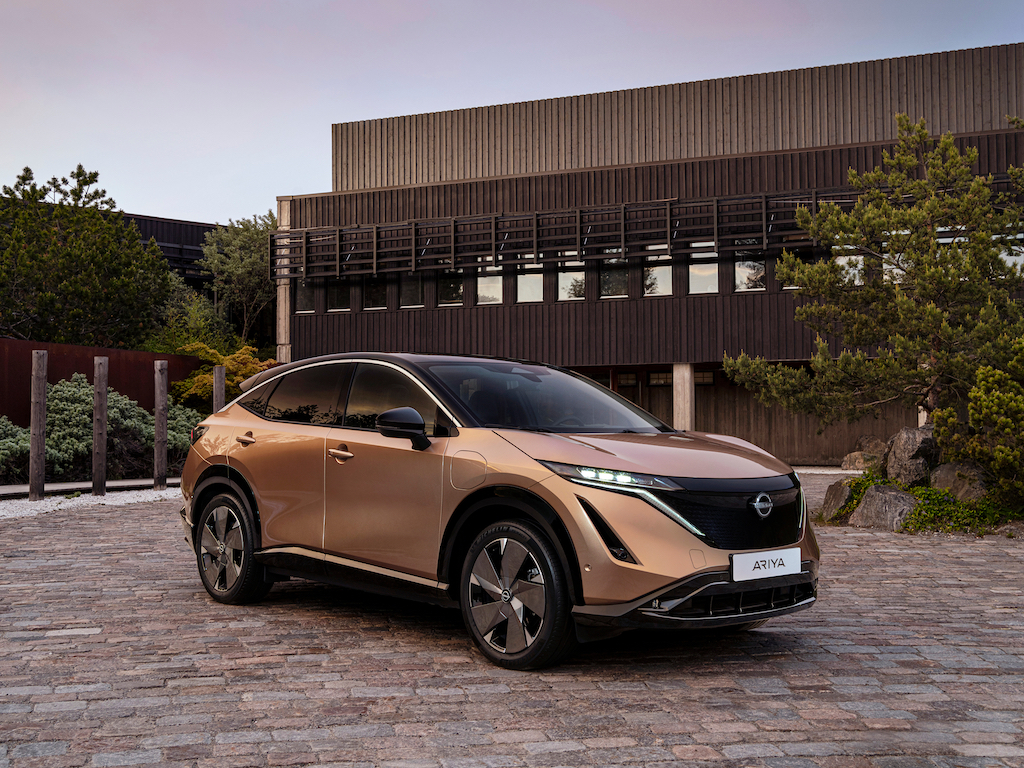 What do you get when you combine two of the biggest hitters in the Nissan lineup –the Leaf and its EV capabilities and the hugely successful Qashqai? The answer is the Ariya, Nissan's first electric crossover and the new flagship model for the Japanese brand.
Although a great deal of the development work on the car was done in Europe – including the company's Cranfield technical centre in the UK – there is plenty of Japanese influence. Aside from being produced at Nissan's Tochigi plant, the interior of the car was inspired by 'traditional Japanese houses', says the company, with a lounge-like environment being one of the most striking aspects when you step inside. In fact, the spaciousness is befitting of a car in a higher, more luxurious, vehicle segment, but Nissan wanted to push the boundaries on what it offers in an electric vehicle.
Staying inside the cabin, there's a sensible mix of touchscreen operations and haptic buttons on the powered centre console, which can also move up to 15cm, creating more spacious feel for with front or rear passengers. Two 12.3-inch screens run alongside each other, displaying everything from infotainment choice, to available range to navigation, which in the Ariya includes 'Intelligent Route Planner'. This system enables users to transfer route information from smartphone to the car and will track, monitor and re-route the driver if necessary. There might be a great deal of information across the widescreen setup, but it is well laid out and easy to consume. Nissan says the configuration chosen minimises driver distraction from the road with a quick glance down at the screens.
More customer-focused elements of the car include extra space in the boot for charging cables – an improvement made after feedback from Leaf drivers suggested there was room for improvement. There has also been a big emphasis on driver engagement, with ride, handling and steering key priorities for the development team. The challenge to make a 'fun-to-drive' electric crossover weighing in at more than two tonnes started with the use of Nissan's CMF-EV platform. A base that is, according to the Japanese, "optimised to deliver unparalleled performance".
Ariya is available with three battery and powertrain combinations across two- and all-wheel-drive options. Choose the smaller battery of the two – a 63kWh unit – and it will generate 215hp through the front wheels. It also provides 300Nm of torque, a zero to 62mph time of 7.5 seconds and a theoretical driving range of up to 250 miles.
Those drivers looking for a bit more power can opt for the larger (87kWh) battery, which is mated to a 239hp single-motor in two-wheel-drive guise and a 302hp dual-motor e-4orce powertrain. The former offers the same 300Nm of torque, but theoretical driving range jumps to a maximum of 329 miles. The e-4orce option returns slightly fewer miles (310), but double the torque (600Nm) and a zero to 62mph time of 5.7 seconds. Fast enough in any car, but very impressive for a big crossover.
More Leaf knowledge has meant the Ariya's battery – comprising 16 cells – is 33% thinner than the smaller Nissan EV, generating more space in the cabin. Charging times using a 22kW unit are 3.5 hours for the 63kWh battery and five hours for the larger one. Rapid charging can be accommodated up to 130kW and the batteries can be replenished from 20% to 80% in 28 minutes (63kWh) and 30 minutes (87kWh).
There are two grades for Ariya – Advance and Evolve – although the range-topping e-4orce offers just the higher spec. That model also gets bespoke badging, entry plates and different coloured window mouldings.
The base Advance model still offers plenty, such as full LED lighting, automotive dual-zone climate control, heated front seats and wireless connectivity. Safety-wise, drivers get Nissan's ProPilot technology, lane keep assist, blind spot intervention and forward collision warning technology. Move up to Evolve and Nissan adds the likes of a panoramic sunroof, the powered centre console, a 10-speaker Bose sound system and heated rear seats.
The brand says it has nearly 2,000 pre-orders for the car, which starts at £43,845 and goes up to nearly £60k. It also stated a CAP-derived RV figure of 57%, which, Nissan has claimed, is better than a number of its competitors in its class.
On the road, Ariya is very impressive for a car of its size and mass. Getting a two-tonne-plus crossover to handle exactly like a Qashqai (Nissan's goal) might have been a step too far but it's an admirable attempt. Acceleration is smooth and plenty quick enough and the steering is compliant and direct. Inside, Nissan has created a spacious, almost peaceful, space, with plenty of Japanese influences within.
IN BRIEF
WHAT IS IT? C-SUV BEV
HOW MUCH? From £43,845
RANGE? 223-310 miles
CHARGE TO 80%? 28min (130kW)
Key fleet model: 63kWh Evolve
Thumbs up: Interior space; infotainment layout; RVs
Thumbs down: High seating position; low-speed ride
Seven-word summary: Lovely lounge-like space with plenty of tech
Also consider: Škoda Enyaq; Kia EV6; Volkswagen ID.4
Courtesy of John Challen Fleetworld