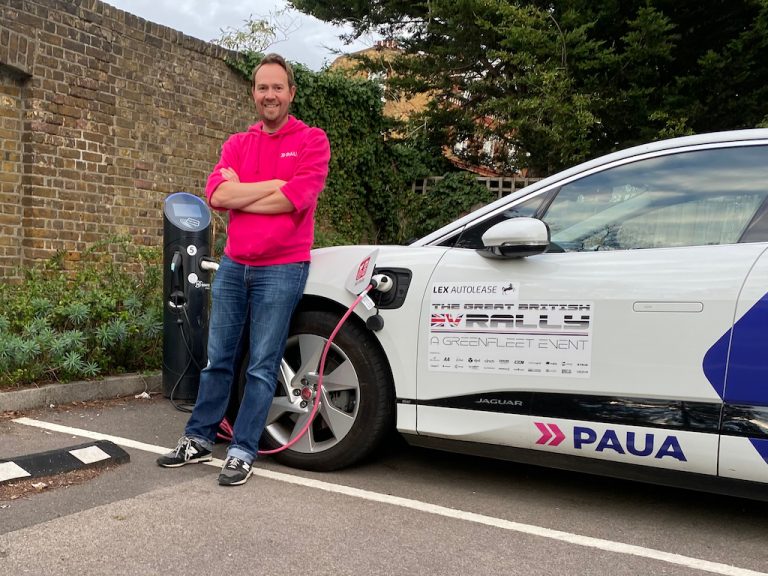 Demands for simplicity of charging EVs across multiple networks saw the development of a new one-card system allowing EV drivers to cross-connect to UK charging network.
Dubbed Paua, the 'roaming' platform aggregates multiple charging networks together and provides the fleet manager with a single solution for their drivers and a single bill.
This much-needed single card solution gives access to more than 20,000+ charge point connectors across around 20 partners.
Niall Riddell, co-founder and CEO of Paua, and his team have been successful in forming the company into one of the largest independent EV roaming network developers, modernising fuel cards for business operators.
This summer also saw ChargePlace Scotland (CPS) join the scheme to provide a roaming solution for the Great British EV Rally – marking the first step in what could become a longer-term partnership.
Riddell explained: "The partnership with Charge Place Scotland was a great start for the new Paua platform, enabling private and business EV drivers to access multiple Scottish charging networks from Lerwick to Berwick via a single solution that can work anywhere."
Paua has also joined EVA Scotland as a Corporate Partner, driving further work in the nation.
Six months on and we asked Niall Riddell to comment on what further progress has been made and his future plans for Paua.
Q1. Why have you decided to join EVA Scotland as one of its Corporate Partners?
NR: Multiple reasons really. Firstly, you cannot operate a roaming solution that helps electric vehicle drivers navigate from one end of the country to the other without getting involved in Scotland. As the only true roaming solution that enables Scottish EV drivers access to England and English Drivers access to Scotland, we wanted to mark this with participation in an appropriate body.
Secondly, I was born in Dundee, family roots in Perthshire and educated in Edinburgh, which means that there is still a strong Scottish link in what I do.
Thirdly, as a business we are seeking to build relationships with other businesses and organisations that improve our credibility and EVA Scotland achieves this aim.
Q2. How do you see the future of the electric vehicle transition leading up to 2030?
NR: Varied. The most important thing to recognise is that those driving electric vehicles today are not the mainstream adopters. We are still below 2% of all vehicles on the road that are battery electric. These drivers are prepared to accept inconveniences that mainstream adopters will not.
Future EV drivers will be seeking simplicity in their experience. Having access to a single solution to charger their cars whilst out on the road will be expected by them.
Q3. What are the priorities for Paua (particularly in Scotland) but in general throughout the UK?
NR: Paua's priority is to make it easier for business drivers to find, charge and pay on EV charging infrastructure with one card (and one app). Therefore, we need to ensure that all fleets – Scottish, English, Welsh – are able to access GB charging infrastructure with the minimum of hassle.
Ensuring that businesses can access a single invoice across multiple networks saves time and money and improves the driver experience.
Q4. Do you have any major contracts / initiatives you can talk about?
NR: Paua's focus is on extending its network. The latest integrations concluded have taken Paua through the 20,000 EV charge point connector, meaning that Paua is now accepted at around 40% of UK charging locations (over twice the amount of most of its competitors). This remains our focus to create a universal charging solution for EV drivers in the UK.
Paua is the UK's leading roaming EV charge card provider. We seek to make it easier for businesses to operate their electric fleets and therefore to save time and money utilising public charging.
Additional media coverage