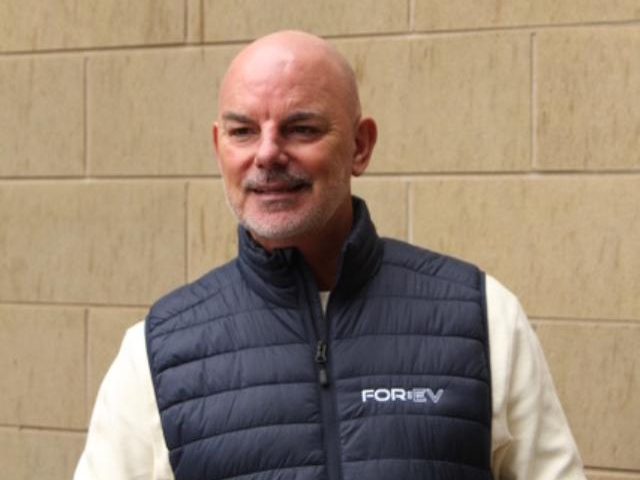 Back in 2017, Scotland's EV charging infrastructure was in its infancy and left many wondering if the transition would ever happen.
But one entrepreneur saw the potential and was encouraged by a few friends who already drove EVs to take the proverbial leap of faith. And five years on, he's made an impressive impact in his native country's all-electric ambitions.
Thanks to the vision of founder and CEO Lindsay Wallace, FOR:EV has emerged as one of the key players in the fast-growing market of EV charge point companies operating throughout Scotland. It sees itself as playing "a vital part in Scotland's transition to net zero" and is working to roll out a sustainable and cost-effective EV infrastructure to support urban areas, destinations, commercial areas and the public sector. Clients range from local authorities to large scale fleet-led businesses – and include Forth Ports Scotland, United Auctions, Glasgow Quay, Port Edgar, the Antonine Shopping Centre, Cumbernauld, Westside Plaza Shopping Centre in Edinburgh and both the Heart of Midlothian and Hibernian Football Clubs.
The company's aim is to provide its partners facilities with the ultimate charge point solution for their visitors, guests, staff and customers – its bespoke solutions can provide sites with a charging power of 22kW-600kW+.
Speaking in an interview to Fleet World, Wallace speaks candidly about the industry and his company's vital role in ensuring that EV drivers, whether fleet or private, have the ultimate charging facilities at their disposal.
When and why did you start this business? Has it been all your own funding or do you have partners?
LW: A few friends made the very early transition to electric vehicles but the resounding message was they'd only use their EVs for inner-city driving, with no intention of long-distance journeys, keeping a petrol or diesel car for that purpose. I was aware that people were genuinely worried about the electric vehicle range and charging facilities across the country and so I commissioned Business Gateway to conduct a survey across the Nordic countries and across the UK – it became massively apparent how far Scotland was behind on EV infrastructure charging and the future requirements associated with benefits to the EV driver.
I subsequently formed FOR:EV in 2017 to help tackle the lack of electric vehicle charging infrastructure in Scotland. A funding strategy was in place but Covid-19, unfortunately, set us back a couple of years .However, we secure seed funding from the Scottish National Investment Bank in July 2021 – they shared our vision of providing much-needed public EV charging – and further funding in October this year to accelerate our growth plans.
There are some big players in your sector, what is your company's USP?
LW: FOR:EV offers fully funded electric vehicle charging solutions to our clients. As we roll out sustainable and cost-effective EV infrastructure to support urban areas, destinations, commercial areas and the public sector, it will allow drivers to charge their electric vehicles away from home.
Our full end-to-end process allows businesses to focus on what they do best while allowing us to provide their site with a future-proofed infrastructure. We deliver bespoke solutions for each of our partners and understand the complexities, not only of the product offering and the technology behind the products, but also the positive and negative consumer perceptions that exist.
EV drivers want to have a quick, convenient and secure way to pay at charge points, and that is exactly what we provide by allowing them to use a contactless card or mobile device.
Experience and reliability are key for all our stakeholders and we always strive to make sure every touchpoint with FOR:EV is a positive experience. Our solution is unique for fleets across the UK, providing a fully managed service and a future-proof solution for operators to manage their footprint and EV fleet with a one-stop or turnkey solution for our partners. Large-scale fleet operators can have a managed solution that includes an all-inclusive kilowatt (kW) cost that's based on a fleet operator's annual mileage and is bespoke to their business needs, providing the ultimate supportive solution when transitioning to electric and net zero. This process and service option significantly reduces business administration with multiple other benefits too.
Is Scotland your prime / only target market?
LW: FOR:EV's headquarters is in Edinburgh and we're proud of our Scottish roots. Our network is expanding across the country with a number of large-scale projects in the pipeline that will see us expand across the UK and Europe.
Are you targeting Scotland's local authorities?
LW: We understand the challenges faced by all LAs and we are in a position to assist them with their infrastructure requirements. Currently we're working with two of them, providing bespoke, fit-for-purpose charging infrastructure and community hubs while supporting them in achieving their ESG reporting on the journey to net zero. With the tightening of public spending, we are also able to generate guaranteed revenue for local authorities from each site.
What's your biggest project to date?
LW: FOR:EV operates Edinburgh's first two all-vehicle 100kW EV charging points at Newhaven Harbour and Westside Plaza, which allow rapid charging in under 20 minutes.
We have a number of large-scale infrastructures planned across Scotland, the UK and Europe that will range in size and scale to meet the demands of our clients.
What's the next strategic move at FOR:EV? Where do you go from here, particularly over the next 12 months?
LW: We're a vital part of Scotland's transition to net zero. Our strategy for 2023 will see us install more than 300 connectors for the general public, along with two pilot schemes for full turnkey solutions.
With 76% of current UK EV drivers not believing that the UK's EV charging infrastructure is fit for purpose (Novuna Vehicle Solutions research), we're committed to rectifying that and are driven to create better-connected communities for a greener future.
Additional media coverage