This latest innovation by a Scottish Borders company will be a boon to house builders and owners of new build houses... the 'BriXcell' - it has been developed by a team of industry experts - is a simple, compact solution which can be easily installed during the construction phase of any new build house and can be used in the fleet transport markets.
The product contains the entire EV charging point infrastructure within a brick-sized construction pack which can be fitted as part of the existing building process.
BriXcell is being launched in partnership with Annan-based solutions firm Eco Group, as part of its new range of EcoGoZero, all aimed at helping businesses, homeowners and the country achieve net zero targets.
Eddie Black, Managing Director of Eco, said the BriXcell had the potential to play a key role in the electric car charging industry.
He said: "This product is an excellent example of what can be achieved when a great concept, design and technology comes together to create a simple yet innovative solution.
The BriXcell construction pack is built into an external wall during the construction process, with the internal cabling contained within the infrastructure of the property.
EVA Scotland director Neil Swanson said: "One in three cars in Scotland are predicted to be EVs by 2025 and the majority will be charged at home. Having a dedicated EV charger fitted to every new build house is the way to go and to have a ready-made solution like this is an attractive development that will stimulate, even further, the benefits of going all-electric."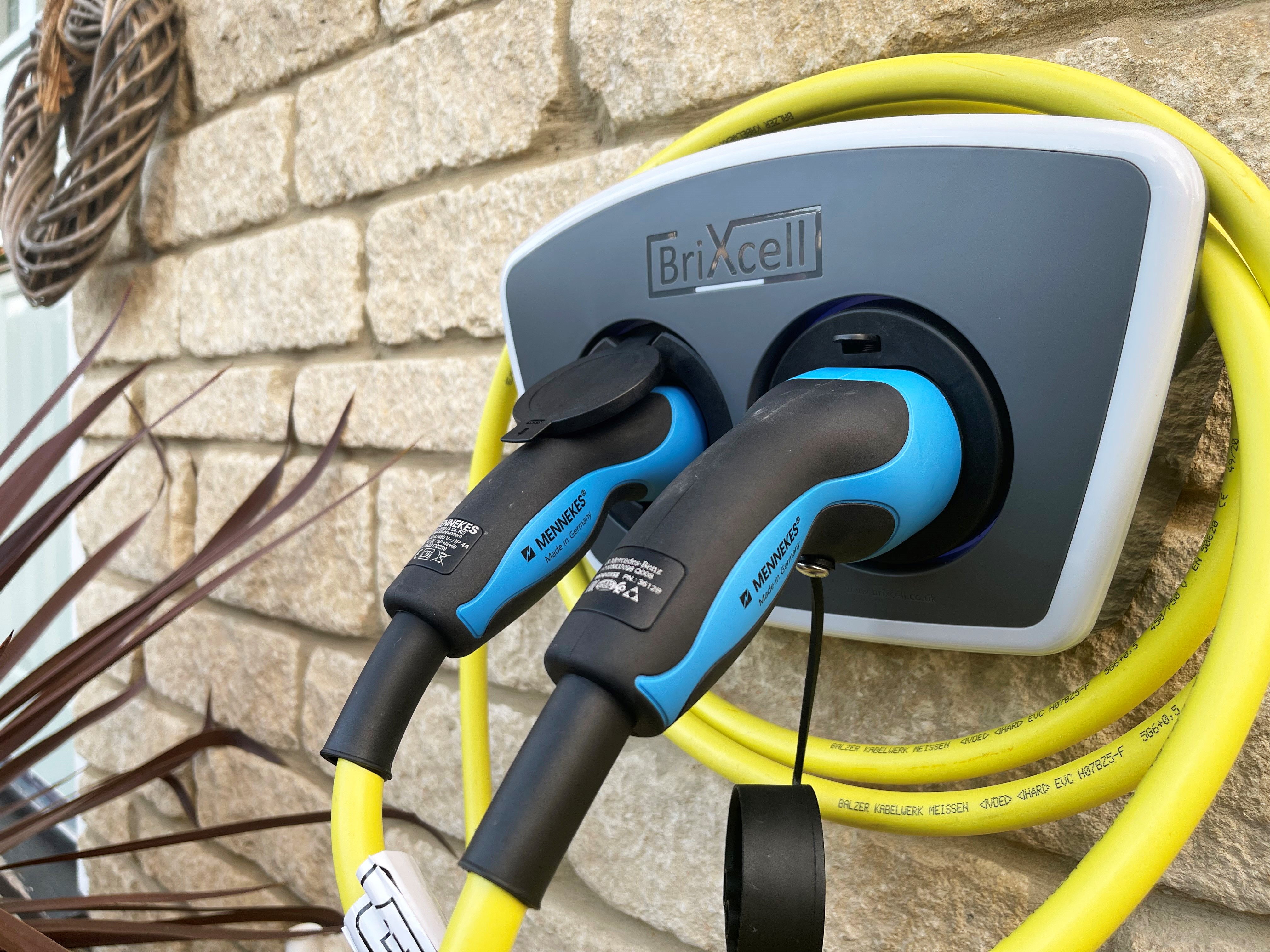 How it Works
The electrical connection system is wired at the initial build phase and fitted with "a decorative cover" which is swapped for a charge point when it's needed by the new homeowner, ensuring the warranty begins at the point of requirement.
Tim Gardner, who is part of the four-strong team behind the BriXcell, said: "We see this product as a game changer for the new-build industry.
"What started as a sketch on a piece of paper almost three years ago has developed into a fit-for-purpose product which we can now take to the market.
"Traditionally these types of products have been surface mounted but we challenged ourselves to restrict it to the size and shape of a standard brick so it can form part of the construction process.
"The BriXcell has been through a rigorous testing process and the feedback we have received so far from the industry has been extremely positive.
"The main advantage of this product to a house builder or developer is that they don't need to change any of their existing processes to install it, which saves money and time. It really is as simple as laying a brick.
"And when the homeowner moves into the property, the charge point is ready for them to use. We've been told that it's so simple yet so cleverly designed that it could be ground-breaking for the industry."
Eco Group's EcoGoZero portfolio of products focus on decarbonised travel, decentralised energy and infrastructure innovation. The firm has a proven track record of creating and delivering solutions for businesses across the UK.
Eco Group's Eddie Black added: "We believe it can make a big difference in the move towards a more sustainable future, and we are excited to be collaborating with the BriXcell team to bring it to market."
Eco Group has exclusive UK distribution of the product, which will lead its Eco V range of electric vehicle solutions.
BACKGROUND INFO
Tim Gardner has over than 30 years of experience in the new-build industry...the BriXcell team also includes Jonathan McFarlane, who is Managing Director of plastic injection moulding company Plastic Engineering Solutions; Nick Glover who is Managing Director of electronics firm Cursey Technology; and James Glover who is a director of Viridian EV which specialises in electric car charging products. They are all based around Cirencester in Gloucestershire.
Tim said the strength of the team lay in the knowledge and experience each member brought to the project.
He said: "We are all running busy and successful businesses and have put this momentum into establishing the BriXcell product. From the point of concept, we all believed 100 per cent in this project and, by bringing together our joint expertise, we were able to make it a reality."
The team's in-depth understanding of their specialist sectors has influenced the design features of the BriXcell which include 32 amp (7Kw) fast charging; flame retardant polymers (UL94-VO) which meet Glow Wire test 960; either type 1 or type 2 plug holder for the charge cable when not in use; and IP54 water and dust resistance.
It also includes an LED halo for charger status; luminosity for night time charging; security features; and a cable tidy.
Plans requiring new homes in England to have an electric car charging point were announced by Prime Minister Boris Johnson in November as part of efforts to help the UK reach net zero.
Under the plans, new-build homes will need at least one charging point per dwelling with associated parking. The new regulations would also apply to new-build supermarkets, workplaces and buildings undergoing major renovations.
The measures aim to support the growing uptake of electric vehicles, with new petrol and diesel car sales banned from 2030.