In practice though, the reality has proved a different matter with two elements falling in Citroen's favour. Firstly, Citroen has switched to an all-electric line-up renaming it the E-Berlingo and, secondly, with its two different versions – M and XL – it offers buyers the choice of combining seven-seats with electric power. And, outside of a larger SUV, that's not a common option for many buyers.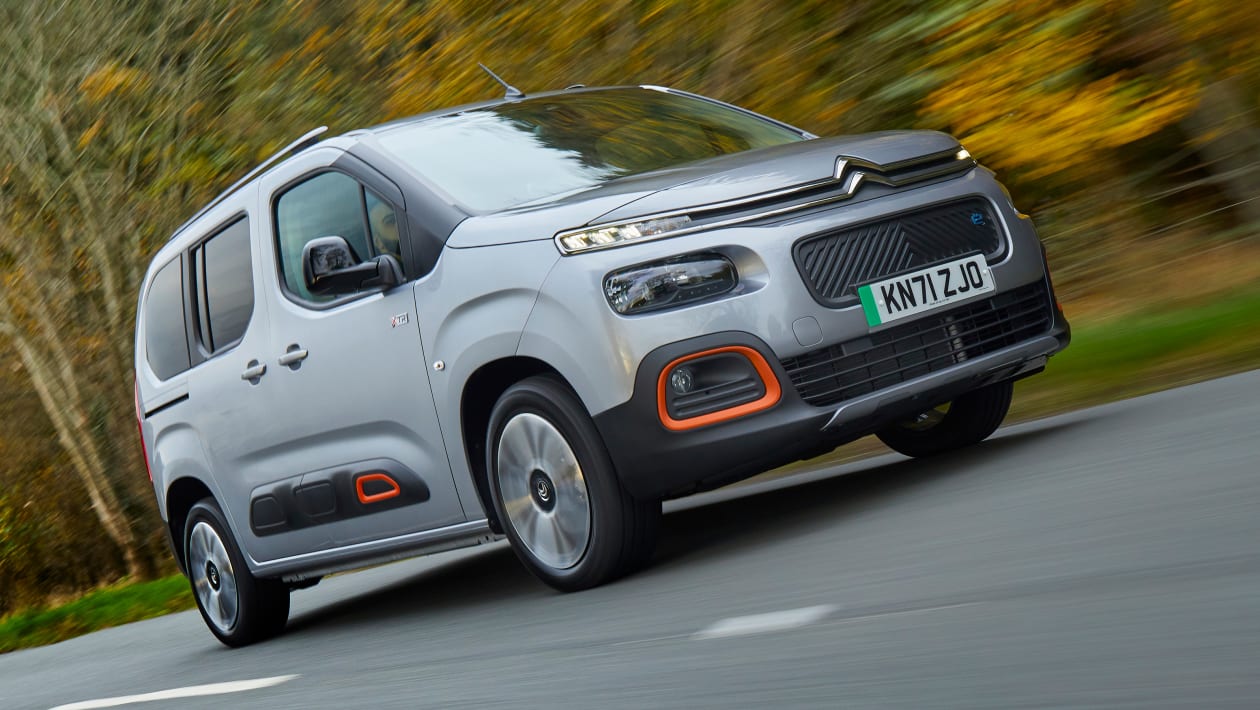 Design
Let's tackle the elephant in the room straight away – yes, the E-Berlingo is based on a van. If you're after sleek lines and a low roofline for your family car, then you're better off looking elsewhere.
The XL version that we tested is even longer, only highlighting those van looks still further. Whether this styling issue bothers you or not is simply a matter of accepting the car's roots. If it does, then this probably isn't a car for you, but if you accept that the E-Berlingo's styling comes secondary to its immense practicality, then you're in luck.
Power and range
As with much of the rest of the Stellantis electric range, the E-Berlingo features the same 50kW battery pack seen in the Vauxhall Mokka-e and Corsa-e and Peugeot's e-2008. That equates to an official range of up to 182 miles – a figure that we regularly neared when fully charged and in Eco mode on the driving selector.
Citroen claims a seven and a half hour recharge time on a home wallbox thanks to a 7.4kW on-board charger (an 11kW charger is an option), with a 30-minute 0 to 80 per cent charge time at a 100kW ultra rapid charger. Despite driving the larger XL model with six people on board and using the air conditioning, we averaged 3.6mls/kWh during our time with the car over a mix of faster and urban roads, which we felt was pretty respectable given the size of the car. It's notably better than the larger Vivaro-e with the same battery too.
On the road
As with the styling, if you're expecting wonders from the E-Berlingo's driving manners, then you're going to be disappointed. It's not that it's especially bad, far from it, but you're rarely far from reminders of its van origins.
The ride quality and noise levels are certainly not what you would expect from a traditional car and while the ride improves with more people on board, it can crash into potholes with a little more violence than you might expect. The same goes for the E-Berlingo's handling, you're never less than fully aware that this is a big car – especially so in XL form – and it's not a car to throw through corners with enjoyment or abandon.
That said, it's comfortable enough and can be hustled with a degree of verve if you really want to two (and the front passenger seat), it's just not a car that you're going step out of with a smile on your face. You do feel every inch of its length when parking, but the reversing sensors and camera make it a lot easier to judge where each end of the car is.
A little frustratingly too, the only brake energy regeneration on offer is a simple B mode, although you can switch the Drive Mode button into Eco to extend your mileage further if required.
Interior
Again, the interior is where your opinion of the E-Berlingo and its attributes is crucial. If you're exactly after a car-like interior with high-end plastics and material, then again you're going be disappointed. Its van roots mean that the E-Berlingo's interior has some pretty hard plastics and there's a distinctly budget feel to many of the controls.
Look beyond that to the rest of the E-Berlingo's interior though, and there are some real gems. The plentiful storage pockets in front of the driver and front seat passenger on top of the dash and also above their heads in the roof, the fold out trays in the back of the front seats and, finally, of course, all that space.
In the XL version the two rearmost seats can be folded up or removed entirely to leave a completely flat load floor. Flip up the middle row and there's an eye-watering 4000-litres of space on offer. It is nothing short of huge. If you've got a lot of people, dogs or boxes to regularly carry in something that you need to double up as standard car from time to time, then there's a lot here to like.
Summary
Practicality is everything when it comes to the E-Berlingo. No, it won't be a car for everyone and Citroen openly admits that it's a niche model, but for those wanting that space and practicality with an electric motor rather than a petrol or diesel engine, then it's a perfect option.
It may boast sleek styling or a particularly engaging driving experience, but it's a car that knows what it needs to do and then does it extremely well. Just simple, no-nonsense, honest motoring and for that we love it.
Fact box
Model: Citroen E-Berlingo
Price: from £30,995
Power: Battery – 50kWh
Range: 182 miles
Average efficiency: 3.6mls/kWh
Average charge time on a domestic wallbox: 7.5hrs
CO2 emissions: 0g/km
Rating: 9/10