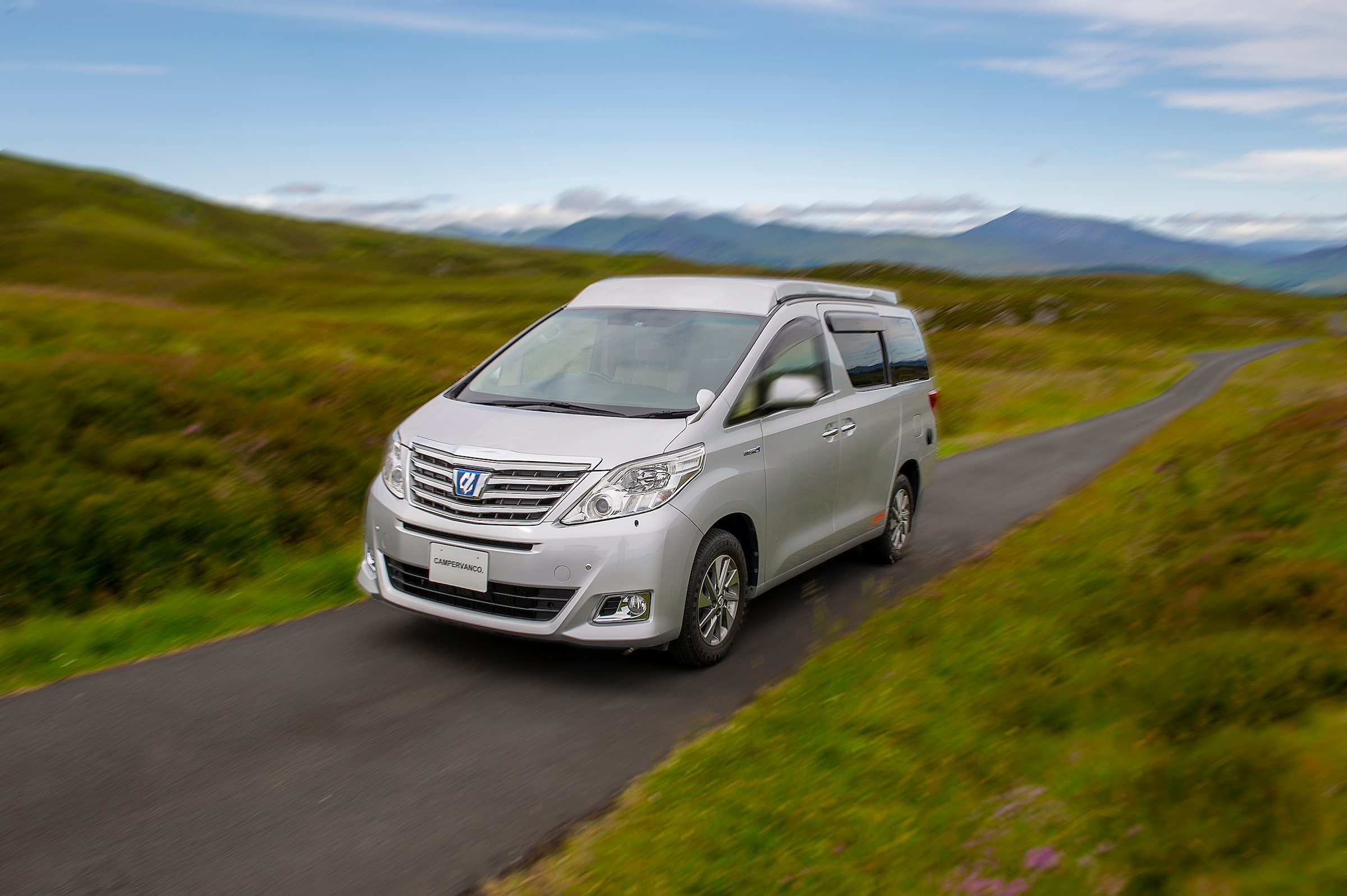 * It delivers sustained off-grid power from a Lithium battery, setting a new benchmark for long-term cabin connectivity and zero emissions
* No mains hook-up? No problem! Integrated 200-amp hours (Ah) lithium leisure battery can power 240v appliances, cookers, fridges and more for days on end
* Hybrid petrol/electric engine system delivers up to 50 MPG making it one of the most efficient campervans on the road
The UK's eco-campervan specialists, CampervanCo, have announced the launch of their latest Eco Camper Pioneer II model. The campervan model is based on existing Toyota Alphard Hybrid v2 vehicles with enhanced performance and lower emissions over previous models. Building on 15 years of eco-customisation expertise, this Eco Camper offers greater and greener independent living, loads more storage, and a ton of tech including a renewable high-power lithium leisure battery to support ecologically friendly adventures anywhere for almost any length of time without grid charging.
The stand-out feature of the new self-charging Alphard Pioneer II is the impressive 200-amp hours (Ah) lithium leisure battery which can power 240v appliances, such as cooker and fridge, without the need for a mains hook-up or intermittently running the engine to top up the battery while parked.  It also powers the lighting and climate control, and it can do this for over a week without recharging based on normal use. The CampervanCo team has employed their own unique tech and installed a 2,000 watt inverter to support high-power appliances like toasters and microwaves, and bespoke relays that optimise the amount of battery charge available to the customer. When (or if) the battery does run down, it can be recharged from 0% to full in less than 3 hours, and it is also continually recharged by driving. The system is also backed up with advanced roof-mounted solar panels that can deliver 6Ah back to the battery resulting in an almost perpetually charged, totally carbon-free power system in good weather. With so much green power built-in, this pioneering campervan provides off-grid freedom for even the most ambitious expedition to the wildest of frontiers, or homeworking with a view.
Another stand-out new feature is in the driving cabin, which is an optional upgrade to provide a top of the range model features a 13.1inch large screen Apple & Android display, capable of playing high-definition feature films with bluetooth connected power-monitoring info display plus maps, weather updates and loads more. The Alphard Pioneer II has a 600-mile range on the newer 2.4lte Atkinson-cycle hybrid petrol engine with additional 4x4 automatic transmission – meaning you can go where most campervans can't go. A new and very popular feature to this range is the option to have the drivetrain powered by electric only by the simple flick of a switch. Combined with its compact size, this innovative Eco Camper can handle the most challenging roads in the UK, for four people in unrivalled comfort.
The Eco team at CampervanCo have spent a lot of time re-designing the interior from lightweight materials to provide a spacious living and sleeping quarters with more storage space and intuitive control and management systems to maximise efficiency, which is made more accessible as this technology is used in pre-loved vehicles. It also features the CampervanCo patented Omnislide Cooker, which enables cooking both inside or out.
Gary Hayes, CEO & Founder of CampervanCo stated, "We have created the Alphard Pioneer II so that it leaves no trace in ecologically sensitive areas. Its incredible leisure battery system and green power provide connectivity and zero emissions, recycling heat from the engine to provide support to the climate control, wherever you are. It is a real game changer in the eco-campervan industry, especially for people who want to relax or work in blissful solitude. It's not only at home in the hills, but it's just as happy in built-up areas, where it also meets the Ultra Low Emission Zone (ULEZ) standards that are being introduced in many of the UK's major cities. You can use it one day to do the shopping and take the kids to school and the next be in the remotest glen with power and kit to last you for days on nothing but purely green energy.
"I think that re-using existing vehicles, making them look beautiful inside and out, and upgrading their eco-technology is the most environmentally sensitive approach. Our latest eco campervan model is an important step for us in our quest to reach zero emissions for both campervans and net-zero carbon emissions for our business, so we can really leave no trace."