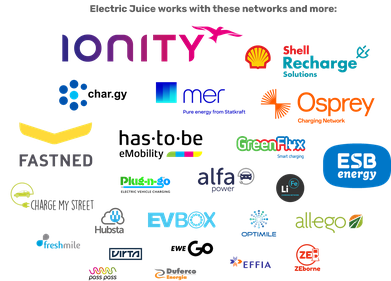 Introducing the Electric Universe
To reflect the rocket-speed momentum in which charging providers are joining the network, Electric Juice is transforming into the Electric Universe (Electroverse, for short!) on 24th August.
In the past 12 months, Electric Juice has added over 200 charging providers (i.e. Fastned, MFG EV Power, GeniePoint, Mer, and ShellRecharge) and 200,000 charging points to the network, opening the route to international charging, and we want a name and app that reflects our global plans as we launch into new countries.
The Electric Universe is your ticket to charging at more than 300,000 compatible charging stations across the globe - with many more to come! Want to take your EV from Liverpool to Lisbon? How about from Cornwall to the Czech Republic? Well, now you can!
With the Electric Universe app and compatible RFID card (Juice/Electrocard), the world of EV charging is yours for the taking!
What do you need to know?
On the 24th August, the Electric Juice app, website and social media channels will relaunch under the Electric Universe name, design and logo.
If you've already got the Electric Juice app, you'll need to download the last version (available on 24th August!). Once updated, the app name will change to Electroverse.
Your Juice cards will continue to work as normal across the network - you don't need to do anything differently - as soon, any new cards ordered will have the Electrocard design!
Follow Octopus Electric Universe on social media by clicking the links within your app profile page; it's the best way to stay up-to-date on our latest features, partners, news and competitions!
If you have enabled push notifications with the Electric Juice app, you'll receive a notification on your phone when the Electric Universe changes are live. To enable push notifications, check out these handy guides for Apple and Android.
And if you don't have the Electric Juice app but would like to download it ahead of the update click here