In most cases that we have seen, the Nissan Leaf's lithium ion battery cells tend to naturally degrade fairly evenly. As a result, most cells in an aged pack tend to have similar capacity and in these cases just swapping a few modules in the pack is a pointless exercise. Of course, there are always some exceptions – for example we have seen some cases of early high miles often-fast-charged packs where the modules in the middle of the rear stack have slightly lower capacity than the rest, but even in these cases swapping these modules is rarely justified.
For Leaf owners with a heavily degraded battery pack wanting a significant increase in overall capacity (range), we feel that a complete battery replacement or upgrade is the best option.
The high-voltage battery pack is the heart of any electric vehicle. An electric vehicle's range and performance are both dictated by what can be delivered by the HV battery. Battery upgrades are therefore the key to allowing existing electric vehicles to become far better than they ever were, even when new. This is entirely achievable and is already being offered by some automotive manufacturers in some markets around the world (HV battery upgrades on the Renault Zoe, BMW i3 and some Tesla models spring to mind). Nissan had previously claimed that earlier cars were not compatible with newer batteries, however several EV specialist companies including put in the effort to figure out how to correctly perform these upgrades and therefore demonstrate that these initial claims were false. Perhaps coincidentally, in late 2019 Nissan USA released a 40kWh pack pre- programmed to be compatible with 2016-2017 Leafs which were originally fitted with 30kWh packs. This clearly goes against their earlier claims. At this point their official upgrades do not extend to earlier 24kWh Leafs.
We now have a solution to this.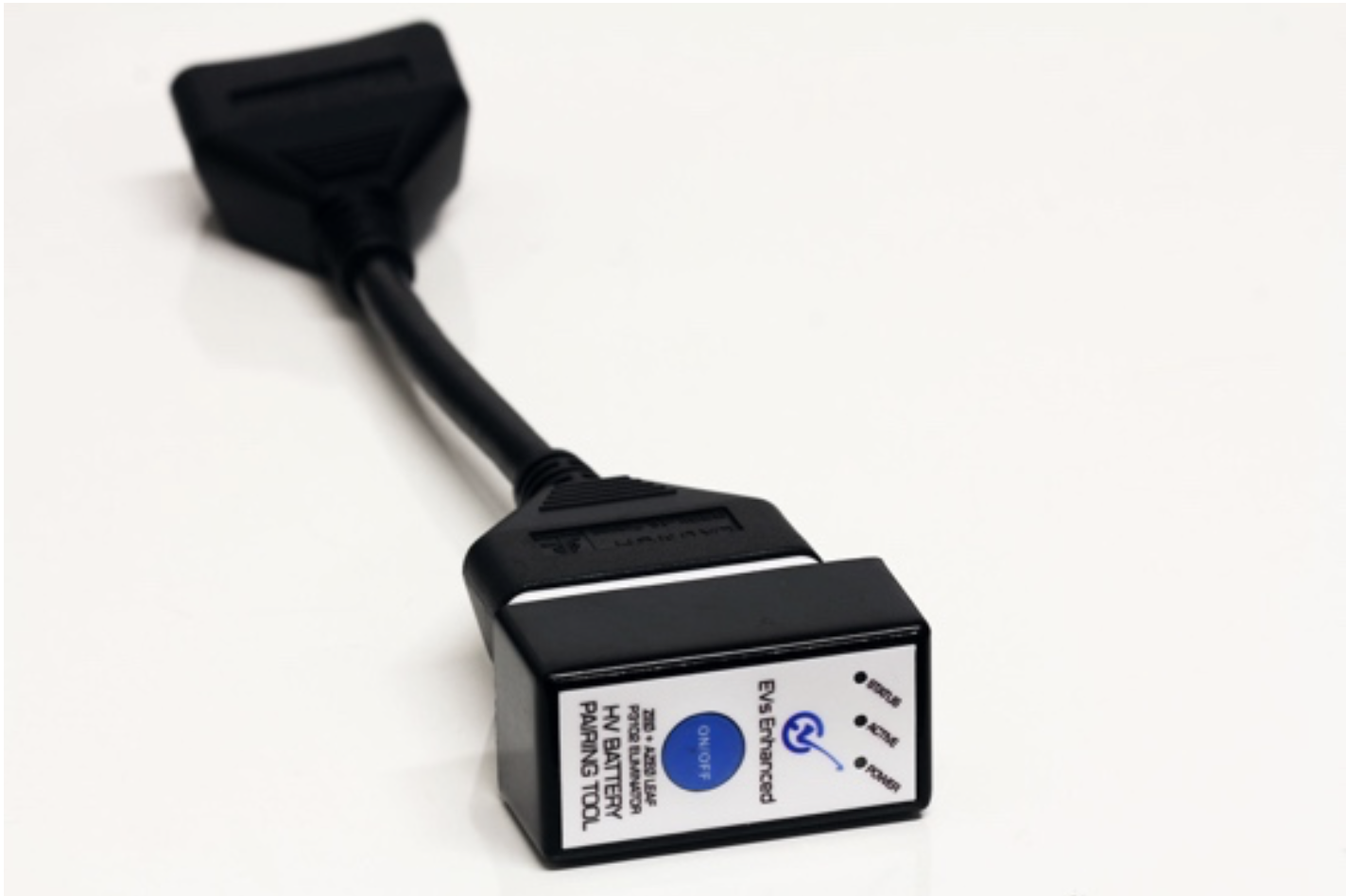 Necessity is the mother of invention, so EVs Enhanced N.Z in collaboration with some partners have been working hard to make Nissan Leaf battery replacements and upgrades available in NZ and now here in the UK and Europe through Electron Garage. The HV Battery Pairing Tool allows for safe and efficient replacement of the battery pack with another battery of the same type, while our range of HV Battery Translators allow upgrades to higher capacity battery packs from newer model Leafs. In both cases the battery replacement or upgrade is achieved without the need to open either the new or old battery pack and can be performed by any skilled mechanic after engaging in a small amount of training. In addition to releasing these technical products, we have been working with others to improve the supply of good replacement battery packs.
HV Battery Pairing Tool
30 kWh Battery Upgrades from £7000 and 40 kWh from £8000, your old battery may well be suitable for stationary storage depending on the SOH we can give you a trade in value towards your upgrade.
Check out our website on www.electrongarage.co.uk/battery-upgrade/ or email us on info@electrongarage.co.uk