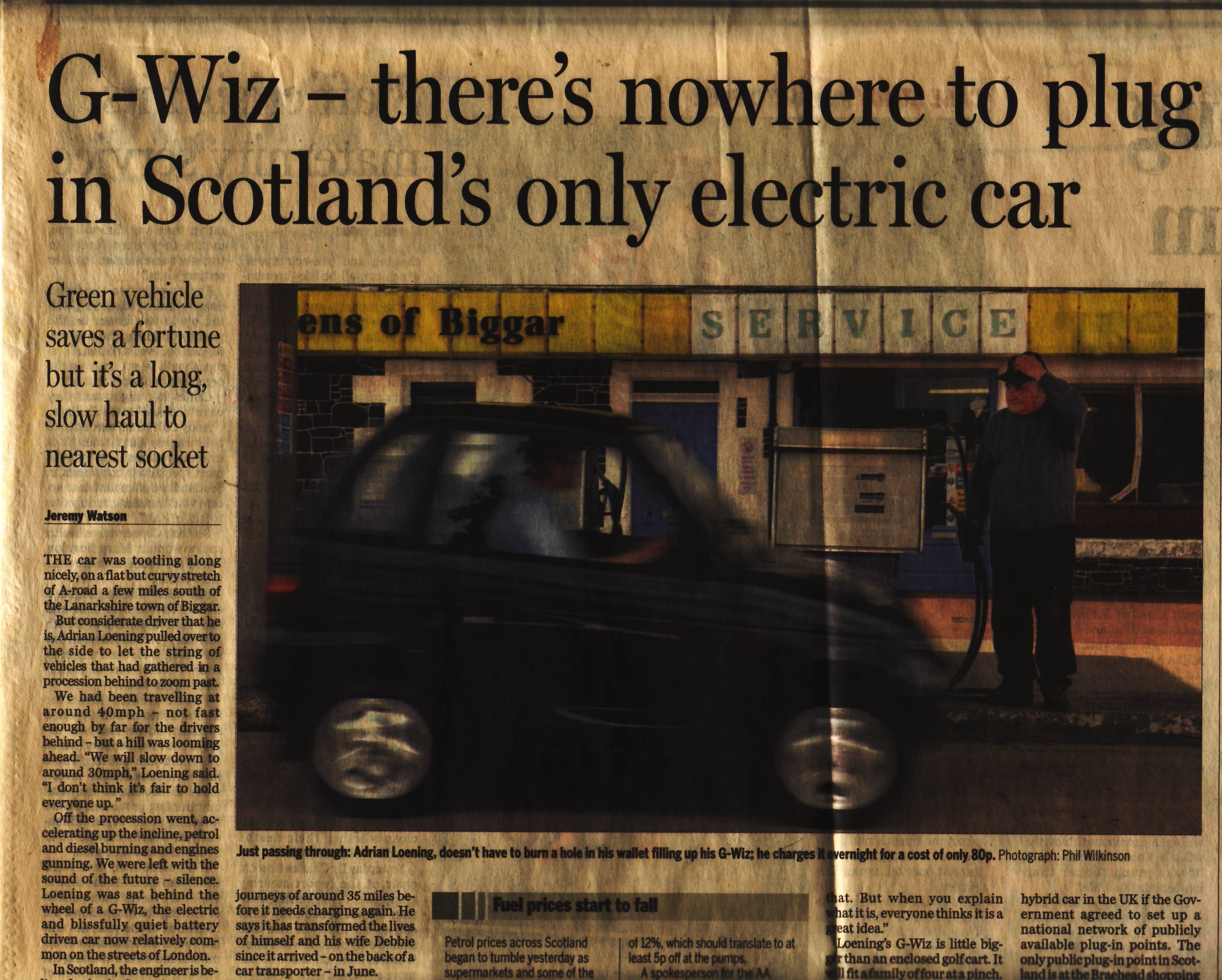 It is now more than 11 years since I bought my first electric car. OK, it was only a G-Wiz but it's uniqueness brought headlines in the press of 'Scotland's only Electric Car'. There were no charging points, no tax benefit and it was simultaneously the best car and the worst car in the world; the best because it made you laugh so much to drive it, the worst because it was the worst car. The headline was in fact not true, there were other electric cars but few and far between. Sometime later, as a result of the headline, I had been invited to help open the EV chargers at the St. Enochs Centre in Glasgow. I trailered the G-Wiz to Hamilton and drove it into town. Here I met Raymond Okonski driving his Vectrix electric motorbike. Believe it or not, my G-Wiz was one of the first cars to cross the Clackmannanshire bridge at the opening ceremony, along with Alex Salmond (then first Minister) in his hybrid Lexus, an Austin 7 and a cyclist.
In 2009 I moved to East Lothian and took the G-Wiz with me. One of the first things I did was install a charger (well actually an outside 13A and 32A socket) and put an advert online inviting any electric car drivers to use the facility. Nothing happened for a while then sometime in the summer of 2010 I received a phone call from a chap called Andrew who needed to charge his car. He was on the way from Edinburgh. I assumed that needing to charge he must also have something like the G-Wiz, slow and limited, but minutes later a slick, black Tesla roadster arrived with Andrew Bissell. "I did not need to charge, just curious who was advertising a charger?"
We got talking. It was clear that there was a need to communicate the requirements of electric car drivers to the wider community and specifically to Transport Scotland and the Scottish Government. By the end of the year, we had succeeded in installing Edinburgh's first public charger (again simply a socket) at Our Dynamic Earth. I used this to get the G-Wiz in and out of town.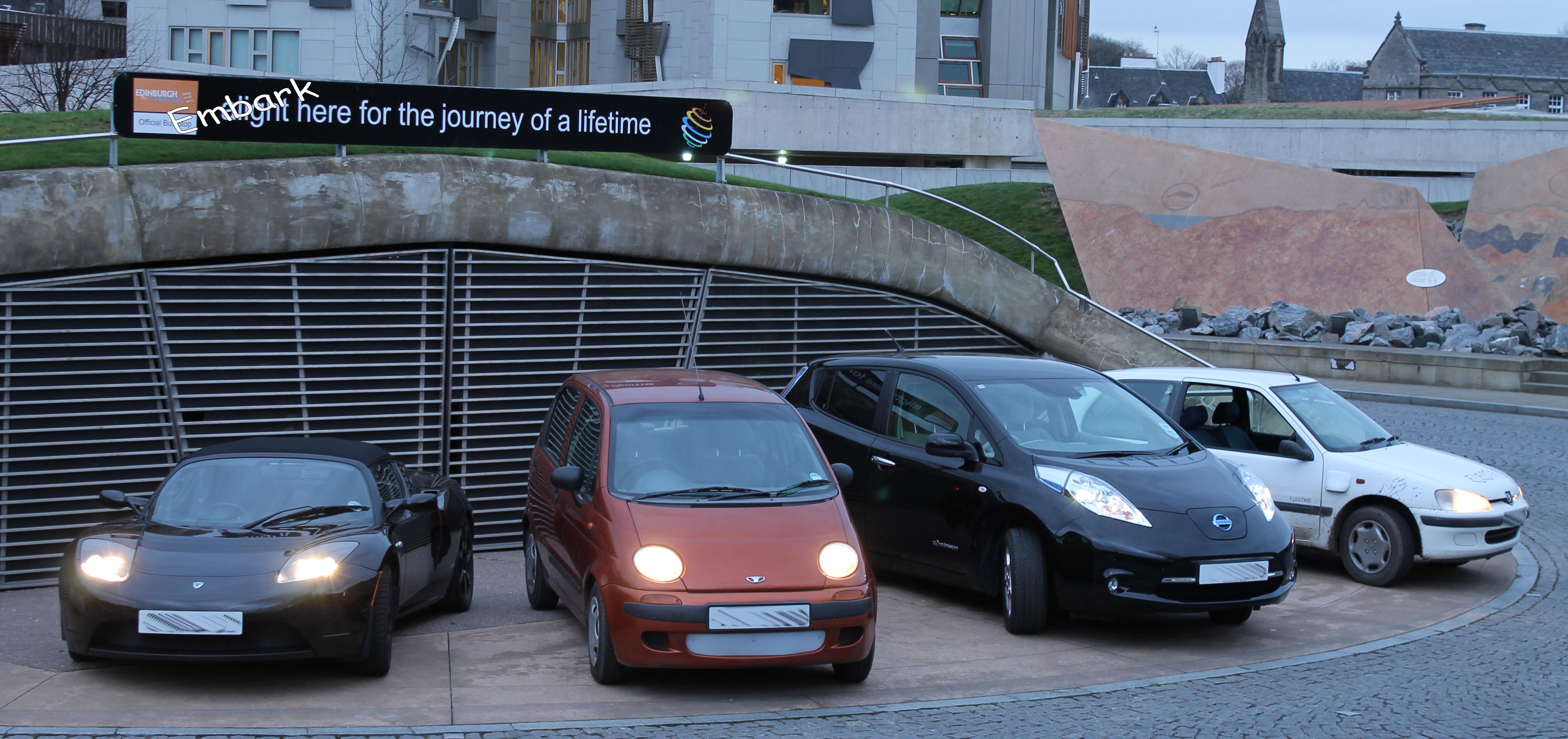 Andrew had made contact with a small group in Aberdeen consisting of Callum and Roberta Burnett, Chris Cook and George Jamieson. Callum had purchased one of the first iMievs and Chris and George had Nissan Leafs on order. Also on the scene was Evan Tuer who it turned out actually did have the first electric car in Scotland with his Peugeot 106.
So it was that a group of Scottish EV enthusiasts were finally in contact with each other. At the same time, the Scottish Government formed the ECOSSE organisation to steer the development of electric transport in Scotland. There was money to be spent and we wanted to ensure that the voice of those that actually drove EVs was heard. By then I had upgraded the G-Wiz to a 2011 Nissan Leaf and had made the first (charging nightmare) journey across the Rest and be Thankful to Argyll during which serious electrical engineering occurred to Ian Reeves garage to allow me to charge in Glasgow. Later a trip of similar nightmares to Silverstone race track for a Nissan sponsored EV event confirmed the inadequacy of EV facilities.
It had become imperative that we had an organisation that could represent the EV driver and so on 1st March 2012 we booked Our Dynamic Earth for the first meeting of the yet unnamed Electric Vehicle Association Scotland. Present were myself, Andrew Bissell, Evan Tuer, Ian Reeves, Callum and Roberta Burnett and Greg Fordyce – the Magnificent 7! Sadly other known EV drivers including Chris Cook and George Jamieson could not make that particular event but I do include them in the founding members of EVAS.
We had apologies from Transport Scotland (Zak Tuck) and Sam Gardner (WWF) it was clear that they did not take us seriously. We noted that that meeting none of the Scottish Government or WWF efforts to date included any private EV users. But EVAS was born, and with me as Chair and Ian Reeves as treasurer, we were determined to put the early adopters' experience to Government.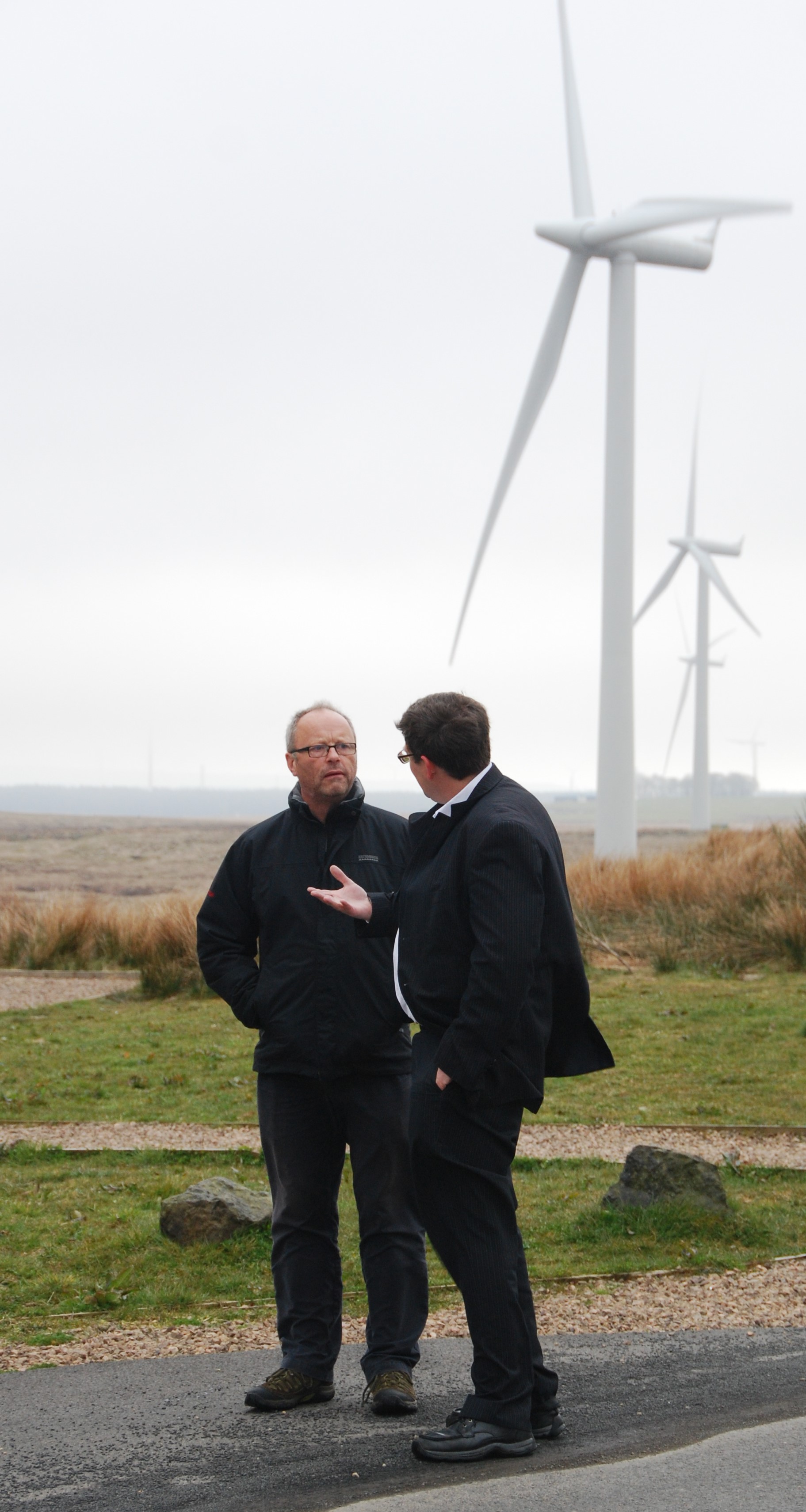 In April 2012 we were contacted by Robert Llewellyn for an early version of the Fully Charged Show. We made a short video about electric cars and renewable energy in appallingly bad weather at the Whitelee Wind Farm.
Very soon we were attending ECOSSE meetings, both public stakeholder events, and private ministerial meetings. At the time there was a strong move to introduce EVs into council fleets and to direct available funding to that cause. This was not wrong in itself but it resulted in many charger installations not being available to the growing band of EV drivers. At the time Mike Foster (Senior Projects Manager, Transport Scotland) sadly no longer with us, did not take well to an unprofessional group of enthusiasts offering advice, but we had an ally in Archie Stoddart (Head of Transport Policy Team in the Scottish Government). Mike did however found the basis of the rapid charger network in Scotland and his heart was in the right place and we have a lot to be grateful for in his vision.
With the opening of the EV showroom by SSE in Glasgow, we obtained funding for the publication of our first brochure. As the organisation grew, and we had more and more press and TV coverage, attended events such as All Energy in Aberdeen, Green Fleet in Edinburgh, talked to dealers, EV drivers and Councils. The weight that EVAS could put behind its opinions became greater and we were recognised as an authority on the subject within Scotland. Our relationship with the Scottish Government improved and as the adoption of electric vehicles increased as EVAS became a valuable part of the promotion of low emission transport in Scotland.
I stayed on as chair of EVAS for a further 3 years before Doug Robertson took over and with unrelenting vigour expanded the remit and reach of the association.