EV Quad
Aulbea Lodges leading the charge

Posted by: Neil Swanson
EVA Scotland | Vehicles
​At the Gairloch Highland Gathering one of the enquiries about ebikes came from Mark and Emma of Aultbea Lodges. They took over the lodges in 2015 knowing that there was work required. They needed a workhorse to both manage the lodges and make all the necessary improvements so made the choice to invest in an electric quad bike. The decision helped to ensure that the tranquility of the area for holidaymakers was not disturbed. Any initial uncertainty disappeared very quickly, with the bike ideal for the site. The bike uses a 72V 7.5kWh Lead Acid battery, with a 15kW DC motor, giving a range of about 30 miles on road, with a top speed of around 35mph.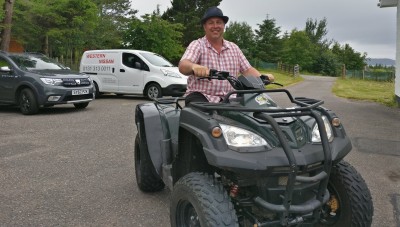 Mark also tells stories of the quad's legendary towing abilities: In the snow it happily and effortlessly recovered a Transit van from a ditch, whilst on the croft it made light work of dragging a bulk bag of stone. Mark and Emma also take the bike up into the hills, where they say it is almost unstoppable. Servicing is pretty minimal too. A little bit of history on the ecoCHarger here.
EVA Scotland were invited up to see the quad and take a spin. Like any quad there is a thumb throttle, but now a toggle switch is the gearbox for forward and reverse. A high low ratio transfer case gives flexibility with selectable four wheel drive

It is very quiet rather than silent from the driving seat, as you are right on top of the motor and gearbox. Pedestrians might not hear you coming though. Charging is with a normal 3 pin plug, although even everyday use had meant that State of Charge is rarely below 70%. Future possible additions for the quad include a hydraulic system like this one, making an already useful and flexible tool even more capable.
Mark and Emma are now looking at the possibilities for ebikes for the guests to hire to explore the stunning landscapes here, so we wish them every success in that venture.