All-Energy Conference 2018
EVA Scotland attend at the SEC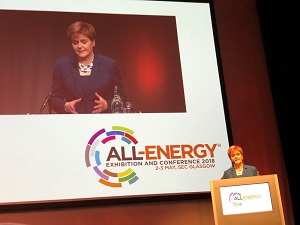 Posted by: Raymond Okonski
Energy | EVA Scotland | Policy
This two-day conference and exhibition has gone from strength to strength in recent years, embracing as it does everything from EV developments, Solar, Wind, Tidal and Biomass. In addition a host of ancillary interests from eco-friendly lampposts to bioenergy and Hydrogen fuel cells. Whatever your interest or vertical market, there was an exhibitor or seminar to talk about or explain the benefits of each.
The event kicked off with a keynote speech from First Minister Nicola Sturgeon MSP at the Opening Plenary Session to a packed hall of attendees in the Lomond Auditorium. She welcomed all present and noted that since starting in Aberdeen many years ago, this event has gained in importance as a centre of excellence for the development of 'green' products and services and takes up three of the largest halls at the SEC (3, 4 & 5). The session was chaired by Keith Anderson, Scottish Power CEO and also in attendance were Sinead Lynch, Chair of Shell UK, Cllr Susan Aitken, Leader of Glasgow City Council and Professor Jim McDonald of Strathclyde University.
Running in parallel with the event were several Seminars, and of greatest interest to us was Smart Urban Mobility Solutions, chaired by Archie Stoddart who is Head of the Sustainable Transport Unit at Transport Scotland (and who had spoken at several EVA events). He introduced EVA Honorary Member Humza Yousaf MSP, (who also happens to be Scotland's Minister For Transport and the Islands). He explained the need to wean the
country away from fossil fuels, and the target date of 2032 to phase out sales of new vehicles would be a milestone, but reminded delegates that since the DVLA only follows instructions from Westminster, the Scottish Government would continue to lobby for change.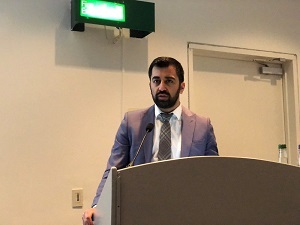 Graeme Cooper, the Project Director for Electric Vehicles at the National Grid explained that stories of EV popularity causing UK lights to 'go out' was simply nonsensical and they were not concerned at all.
Other speakers attending were from Scottish Power (Barry Carruthers), Transport Scotland (Stephen Thompson), Energy Saving Trust (Ellie Grebenik) and Glasgow City Council (Vincent McInally) covered
topics included the Glasgow LEZ (Low Emission Zone) plans, Low Carbon Transport and Sustainability and the quality of public power supplies.
The All Energy event will return next year, and will be at the SEC again, the only venue large enough to host it, on 15th & 16th May 2019.