Pop up on street charging station
You'll need an app.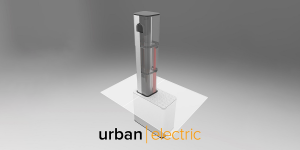 Posted by: Neil Swanson
Charging | Policy
UEone telescoping pavement charger.
A new urban charging solution heading toward trials in the UK. The UEone is a a retractable telescoping bollard that doesn't require a deep excavation to install. Fully extended it is the same height as a normal pedestrian bollard. Using it looks likely to require both an app, to raise the bollard, and an ubitricity SmartCable
The unit is flush to the pavement when not in use, with early graphics showing an illuminated top. This possibly offers an elegant solution for charging in tenemented and terraced urban streets. As the ubitricity model is intended to generate a return, the manufacturers are offering supply and installation free to public bodies.
The only catches; you will need the app and SmartCable, while the waterproofing and vandal resistance specificationare not yet clear.